Press release
Quitting smoking sweeps the nation as Stoptober returns
From: Public Health England1 First published: 20 September 2016
Stoptober is back for a fifth year to encourage the nation s remaining 7 million smokers to quit together this October.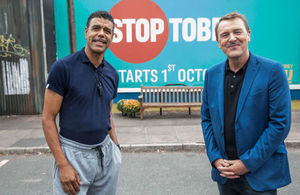 Smokers across the country are being urged to take part in Stoptober (the mass quitting challenge from Public Health England (PHE) starting on 1 October) and join nearly 15 million people who have already quit.
Last year, out of the 2.5 million smokers who made a quit attempt, 500,000 people (20%) were successful; the highest recorded success rate and up from just 13.6% 6 years ago.
This increase in successful stop smoking attempts reflects the high number of people using quitting aids. In 2015, just over a million people (1,027,000) used an e-cigarette in a quit attempt while around 700,000 used a licensed nicotine replacement product such as patches or gum. In addition, over 350,000 people used their local stop smoking service in 2015 to 2016.
Alongside this, according to the latest data from Nielsen, the number of cigarettes sold in England and Wales has dropped by 20% in the last 2 years.
The smoking rate in England has also fallen to below 17% for the first time.
The biggest decreases in smoking over the last 4 years can be seen in the South West (18.7% to 15.5%), the North East (22% to 18.7%) and Yorkshire and Humber (21.9% to 18.6%).
Dr. Gina Radford, Deputy Chief Medical Officer, said:
While we know that quitting smoking is not easy, this Stoptober is a perfect time to try again. The best thing a smoker can do for their health is to stop smoking.
There is more help and support available now than ever before. The introduction of standardised packs removes the glamorous branding and brings health warnings to the fore and e-cigarettes, which many smokers find helpful for quitting, are now regulated to assure their safety and quality.
We also have a range of free support that can go direct to your phone, laptop or tablet via the Stoptober app, a daily email service or Facebook Messenger bot. The new Stoptober website also has advice and information on stop smoking services and quitting aids.
Stoptober has helped lots of smokers quit for 28 days and beyond. So if you smoke, why not make this Stoptober the time you quit – for good.
Professor Kevin Fenton, National Director of Health and Wellbeing for PHE said:
While it is amazing that there are over twice as many ex-smokers as current smokers in England there are still over 7 million people regularly lighting up.
Alongside unhealthy diet, smoking is the biggest cause of preventable early death in England, accounting for over 78,000 deaths a year. Quitters will soon see they have reduced blood pressure, easier breathing and better circulation.
Stopping smoking is the best thing a smoker can do to improve their health.
Ex-England cricketer and Question of Sport captain, Phil Tufnell, comments:
I m really pleased to be supporting Stoptober this year. I have smoked pretty steadily since I was a teenager, even through my cricket career. I have tried to give up before and know how tough it is, but I am going to try and quit again from 1 October.
Even if you have tried quitting before like me and failed, just give it another go and keep trying.
The more you try to quit the more likely you are to get there. Stoptober is here to help, so let s try and get through to 28 days without a fag by taking it one day at a time.
Dr Mike Knapton, Associate Medical Director at the British Heart Foundation, said:
Quitting smoking is the single best thing you can do for your heart health. Coronary Heart Disease is the UK s single biggest killer and by giving up smoking you ll be dramatically reducing your chances of having a potentially deadly heart attack or stroke.
Stoptober is the perfect opportunity for people to take action to protect their health and join thousands of others who are also making a quit attempt this month.
Stoptober is back for a fifth year, having driven almost a million quit attempts to date.
It starts on the 1 October and is based on research that by the time you have quit for 28 days you are 5 times more likely to stop for good.
For more information, search Stoptober online and choose the package of support that will help you quit for good.
Public Health England
Wellington House
133-155 Waterloo Road
London
SE1 8UG
Email [email protected]2
Phone: 020 7654 8038
Out of hours: 020 8200 4400
Background
For more information please contact

[email protected]

3.
Visit www.nhs.uk/smokefree/stoptober4 to sign up or find out more on what support is available.
Download all Stoptober campaign video content and images can be downloaded by media from dropbox.com5.
Public Health England6 exists to protect and improve the nation s health and wellbeing, and reduce health inequalities. It does this through world-class science, knowledge and intelligence, advocacy, partnerships and the delivery of specialist public health services. PHE is an operationally autonomous executive agency of the Department of Health.

Follow us on Twitter: @PHE_uk7 and Facebook: www.facebook.com/PublicHealthEngland8.

Within the past 12 months alone, the most significant fall in cigarettes sold have been in Yorkshire (15%), the South West (14%) and the North West (14%).
Number of ex-smokers: Annual Population Survey Data 2015, calculated by Risk Factors Intelligence, PHE.
Number of current smokers: Annual Population Survey Data 2015, calculated by Risk Factors Intelligence, PHE.
Number of successful quit attempts: Smoking toolkit study, calculated by Risk Factors Intelligence PHE.
Regional decrease in smoking: ONS Annual Population Survey 2015 PHE. Local Tobacco Control Profiles10.
Number of cigarettes sold: Nielsen Scantrack data: Cigarettes, tobacco and smoking control, May 2016.
Share this page
Published: 20 September 2016
From: Public Health England15
References
North Korea said Wednesday its latest ballistic missile tests trialled detonation devices for possible nuclear strikes on US targets in South Korea and were personally monitored by supreme leader Kim Jong-Un.
Tuesday's test firing of three missiles in violation of existing UN resolutions was seen as an angry reaction to the planned deployment of a US missile defence system in the South.
The launch of the two Scud missiles and one intermediate-range Rodong was condemned by the United States, Japan and South Korea, who vowed a collective diplomatic response.
The tests were ordered and monitored by Kim Jong-Un and the range of the missiles was limited to simulate pre-emptive attacks on South Korean ports and airfields hosting US military "hardware", the North's official KCNA news agency said.
The tests "examined the operational features of the detonating devices of nuclear warheads mounted on the ballistic rockets at the designated altitude over the target area," it said.
According to the South Korean military, the two Scuds flew between 500 and 600 kilometres (310-370 miles) into the Sea of Japan, while the Rodong was fired about an hour later.
A photo from the test, published on the front page of the North Korean ruling party's Rodong Sinmun newspaper, showed Kim sitting at a desk covered by a large map of the Korean peninsula.
The map was clearly marked with a possible missile flight path from the North to South's southern coast, around the major ports of Ulsan and Busan.
UN Secretary-General Ban Ki-moon on Tuesday said the tests were "deeply troubling" and undermined efforts to reduce tension on the Korean peninsula.
UN resolutions prohibit North Korea from developing ballistic missile technology.
Pyongyang has repeatedly warned of pre-emptive nuclear strikes against the South and US targets there and elsewhere, although the main focus of its nuclear weapons program is to develop a credible strike threat against the US mainland.
A series of missile tests this year aimed at backing up that threat led to the recent agreement between Seoul and Washington to deploy the sophisticated US Terminal High Altitude Area Defense system, or THAAD, in South Korea.
Last week, Pyongyang responded to the announcement by threatening to take "physical action".
There are nearly 30,00 US troops permanently stationed in South Korea.
North Korea-US tensions had already been stoked by Pyongyang's fury at Washington's decision to personally target leader Kim with sanctions related to human rights abuses.
The North test-fired a submarine-launched ballistic missile on July 9, following back-to-back tests of a powerful new medium-range missile on June 22.
Those two missiles achieved a significant increase in flight distance over previous failed launches and were believed to be of a much-hyped, intermediate-range "Musudan" — theoretically capable of reaching US bases as far away as Guam.
Since carrying out a fourth nuclear test in January, which prompted a significant tightening of UN sanctions, North Korea has claimed a series of technical breakthroughs for its weapons program.
It said it had miniaturized a nuclear warhead to fit on a missile and successfully tested an engine designed for an inter-continental ballistic missile that could reach the US mainland.
While some experts say the claims are exaggerated, most acknowledge that the North's nuclear and ballistic missile programs have made significant strides.
In a separate dispatch on Wednesday, KCNA quoted a spokesman for the Korean People's Army (KPA) unit based in the border truce village of Panmunjom calling for all US troops to leave the South immediately.
"The KPA already solemnly declared that the US imperialist aggression forces in South Korea are its first strike target," the spokesman said.
"The US should go back home, abandoning its wicked intention for a permanent stay in South Korea," he added.
News story
Alok Sharma statement on North Korea missile testing
From: Foreign & Commonwealth Office and Alok Sharma MP12 First published: 19 July 2016 Part of: North Korea3
FCO Minister for Asia Alok Sharma expresses concern following reports of more ballistic missile lauches by North Korea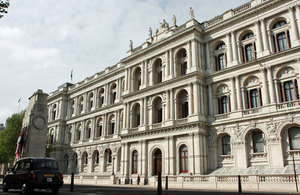 Minister for Asia, Alok Sharma, said:
Reports of yet more ballistic missile launches by North Korea are deeply concerning.
Missile launches of this kind demonstrates that North Korea continues to be a major threat to regional security as it develops its ballistic missile programme in defiance of multiple UN Security Council Resolutions.
The UK strongly condemns these actions and we call on North Korea to comply with UN Security Council resolutions and stop all provocations.
Further information
Follow the Foreign Office on Twitter @foreignoffice

Follow the Foreign Office on Facebook and Google+
Media enquiries
Email [email protected]
News Desk 020 7008 3100
Share this page
Published: 19 July 2016
From: Foreign & Commonwealth Office6 Alok Sharma MP7 Part of: North Korea8
References